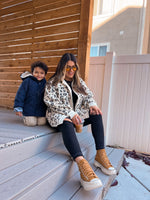 Hi! I'm Evelia & everyone called me Bella growing up  (it means beauty in spanish). I'm a proud latina & owner of SHOP EVELIA BELLA. WELCOME! 
This shop was created for bellas that love pretty rad clothes…& TONS of iced coffee!! :)

If you love to have a little fun with your outfits while staying comfy & trendy, then this is the shop to be. I personally don't have a very definitive style, but a few things are for sure: I love graphic tees & boots, which is something that you can continuously see here. My latest obsession are oversized crewnecks, trendy jewelry & platforms! 

Thank you for being part of the pretty girl coffee gang! 💀☕️✨
Evelia xx